Update for WooCommerce Users
We are working on an interface with the WooCommerce online shopping platform.  We plan to release this interface sometime in Q4 2020.  Please check back with us for more information as we get closer to Q4 2020.
Sync with Your WooCommerce Online Shopping Platform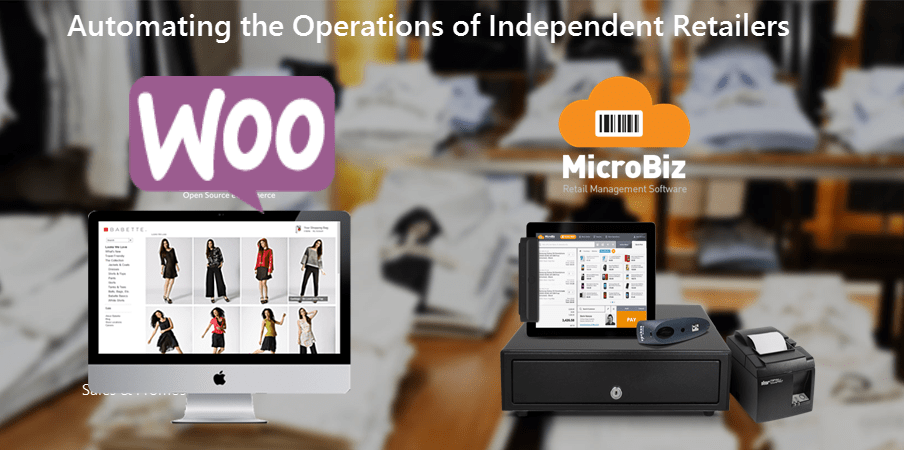 Launch Your WooCommerce Online Store With Your MicroBiz Data – When setting-up a new ecommerce site, MicroBiz gives you the option to transfer your existing product records from MicroBiz to WooCommerce.   MicroBiz syncs the main product record fields to WooCommerce (SKU, short description, price, default image) – saving you time and money launching your online shopping site. 
Share Customers With Your Online Store – MicroBiz's WooCommerce POS system allows you to keep all your customer data in one place. Customer records created online in WooCommerce are synced with MicroBiz, allowing them to be viewed from any store location.  Customer records in MicroBiz include all purchases by a customer across all sales channels, whether the purchase was made at a retail store or on your ecommerce website. You can track where the customer came from as well as where they purchased goods. 
Seamlessly Sync Product Data Between Systems – When you make a change in a MicroBiz product record, its automatically updated in WooCommerce.  MicroBiz integrates the most relevant product record fields between the two systems. The product record fields integrated between MicroBiz and WooCommerce include:
product record (SKU, short name, default image) 

inventory levels

prices
View and Manage Ecommerce Orders in MicroBiz – When an order is made in your WooCommerce store, the order is synchronized to MicroBiz and displayed in the Order dashboard in MicroBiz.  The customer data entered in the online order is captured as a new customer record in MicroBiz.  Sales data from WooCommerce synchronized with MicroBiz includes:
Items sold
Payments
Sales Taxes
Customer data
Automatically Adjusts Online Inventory- MicroBiz seamlessly synchronizes changes in inventory between your store system and your ecommerce store to reflect sales activity.  When an item is sold in a retail store, MicroBiz updates the open stock available for sale on your ecommerce site.  When an item is sold online, MicroBiz removes the item from open stock and marks the item as 'committed'.  The syncing of inventory occurs almost immediately after a transaction, minimizing the potential of 'stock outs' or the sale of an item online that is no longer available or in stock.
Support 'Buy Online and Pick-up in Store' – The integration with WooCommerce captures the requested fulfillment method by the customer.  This is used to display the order in MicroBiz as a store pick-up, or to be delivered or shipped to the customer.
Multi-Channel Reporting – MicroBiz pulls ecommerce sales from WooCommerce into MicroBiz, and treats your WooCommerce site as a separate 'webstore.'   This allows you to analyze sales across both store and ecommerce operations, giving you insight into multi-channel operations. You can run combined store/ecommerce reports by product, category, department and customer, among other options. You see which products are selling (and which are not), which channels are delivering the most sales, your best customers, current stock levels and top and worst selling items. All of this can be accessed real-time without the need for polling remote stores, replicating data at each store or manually manipulating data.