Save Time by Directly Connecting MicroBiz POS to QuickBooks Online 
MicroBiz has a direct API integration with QuickBooks Online, the #1 cloud-based financial accounting software for small businesses, to automate your financial reporting. Setting up your MicroBiz-QuickBooks POS sync is quick and easy and only takes a few minutes.  Financial information from your MicroBiz Cloud POS system is sent seamlessly to QuickBooks Online with a press of a button. No more downloading and uploading of files, faxing or emailing spreadsheets or manually reconciling financial data between your retail system and accounting software.  All your register batch data is seamlessly published to QBO quickly and accurately.

Update for QuickBooks Online Users
We are currently updating our MicroBiz Cloud-QuickBooks Online interface for use with the latest version of MicroBiz Cloud – and will not be connecting new customers until this is complete.  We expect this to be released sometime in Q1 2023.  Please check back for future updates on the availability of the QuickBooks Online interface for MicroBiz Cloud v2.0.
Get Up And Running in Minutes
Connecting MicroBiz and QuickBooks is very easy and just takes a couple of minutes to set-up. First, sign into both accounts and authorize the two applications to connect and share data online. Next, use the set-up wizard in MicroBiz to map your the financial activities in MicroBiz to the appropriate GL account in QuickBooks. You now have a QuickBooks POS system.  Its that easy!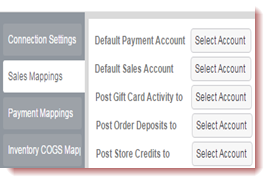 Customize Links to Your Financial Reporting Requirements
MicroBiz includes a mapping engine that provides additional flexibility to link your store data to your GL accounts in QuickBooks. You can map and sync a variety of sales accounts (sales and cost of goods sold by category, cash in/out), inventory, customer liabilities (order deposits, store credits, gift cards), payment methods (cash, check, credit card, etc.) and sales taxes (by location and jurisdiction) using this advanced mapping wizard.
Publish Financials QuickBooks with One Touch
When you close your register batch at the end of the day, just press the green 'Post" to QuickBooks button, and MicroBiz automatically sends the financial information to QuickBooks through a direct connection, where its instantly and automatically recorded by QuickBooks in the appropriate GL accounts.
Review and Approve Batch Adjustments Before Sending
When start the sync process, MicroBiz presents a pop up that summarizes the adjustents that will be made to the GL accounts in QuickBooks when to publish the batch close data to QBO.  This allows you to review the financial activity in your MicroBiz QuickBooks POS system before the GL acconts in QuickBooks are adjusted.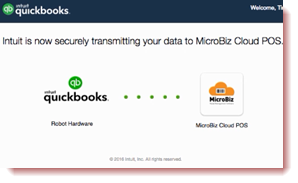 Create an Audit Trail Between Your Store and Financial Reporting Systems
MicroBiz publishes data to QuickBooks quickly and accurately. The direct transfer process creates an audit trail and eliminates errors caused by copying data incorrectly from one system to another.  Your integrated QuickBooks POS system makes auditing work easy.
Sync Financial Data Across Multiple Store Locations
The MicroBiz – QuickBooks POS integration supports multiple retail locations. You can set up different tax rates for different stores and tag financial data by store location in QuickBooks, allowing you to better track financial performance and pay taxes by store. MicroBiz also supports multiple registers in each store.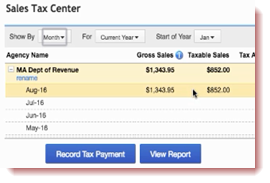 Track and Pay Sales Taxes Directly from QuickBooks
When you publish financial data to QuickBooks, the sales tax data appears in the QuickBooks Sales Tax Center. This allows you to track and pay sales taxes directly from QuickBooks Online.
Take a tour of the key features in MicroBiz Cloud
Sign-up for a Free 21 Day Trial
No credit card or commitment required