Ways MicroBiz Can Improve Your Retail Businesses
Running a retail management business requires you to perform many types of tasks each day.  These vary from managing inventory, pricing strategies, sales and promotions, purchasing and receiving and employees.  At the front of the store, you must ring up sales efficiently and develop relationships with your key employees.  The best POS and retail management software for small businesses provide the tools to automate redundant tasks and streamline sales.

Speed Checkouts with Our Easy-to-Use and Simple POS Software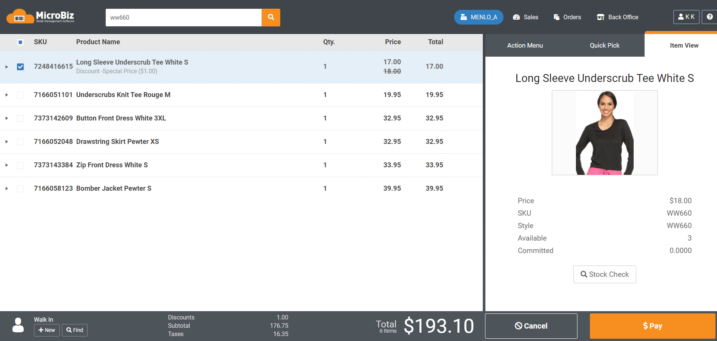 MicroBiz Cloud POS software has all the front end features needed to ring up sales fast and easy, including:
Support of bar code readers, bar code printers receipt printers
Integrated EMV compliant payment processing
Real time stock look-up at other locations, flexible customer and product search methodology
Multi-store gift card management and emailing of receipts
Layaways, holds, split tenders and invoices in progress
Tighten Inventory Turns with Enterprise-Class Stock Management Tools
The enterprise-class inventory management features in MicroBiz will help improve purchasing decisions and tighten inventory levels. 
Manage inventory across multiple outlets with a centralized product catalog and inventory levels by store

Set minimum inventory levels or reorder points to automate the creation of POs.

Print barcode price labels from the purchase order, vendor shipment or product record.

Customizable and insightful inventory and sales reports provide actionable business analytics. 

Simplified physical inventory counts with our free Windows-based Scan App

.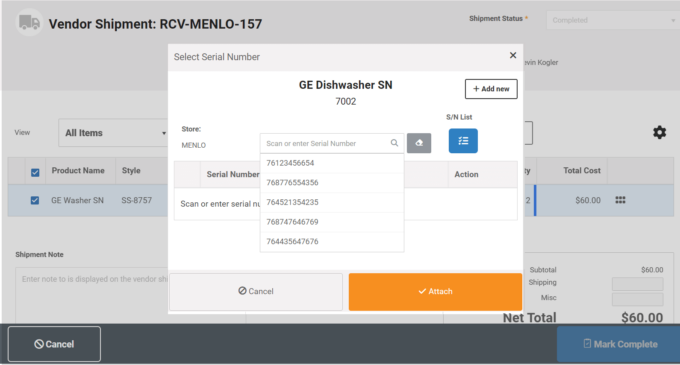 Try it for free (no credit card required)
Increase Margins and Generate Repeat Business with Value Added Services
MicroBiz Cloud POS software allows retailers to offer higher-margin and recurring services, including:
Work orders – supports the sale and management of high-margin alterations, repairs and customization services.
Special orders – allows you to sell items not carried in stock and tie the customer order to the receipt of inventory via a vendor shipment.
Customer credit accounts – offer credit to customers, helping to develop recurring relationships with customers.
Serial numbers – track serial numbers in your POS system to offer warranty services.
Ecommerce – Integration to the WooCommerce ecommerce platform to sell stock online.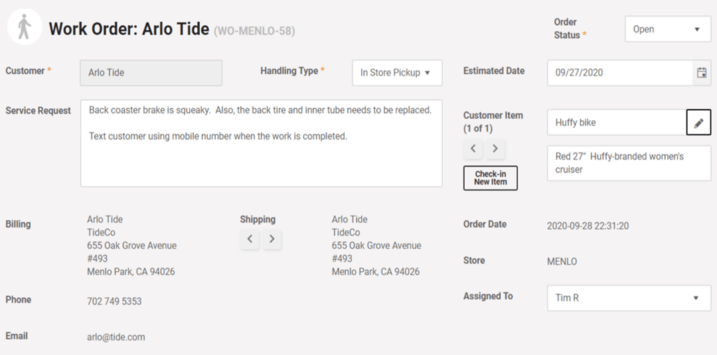 Improve Operations and Lower Wages by Automating Recurring Tasks
The back-end features of MicroBiz retail management software can help automate manual tasks including :
Multi-store inventory management – Transfer items between stores using store transfers. 
Purchasing – Use min max reorder points to add items below stock levels with one touch.
Deliveries- Push shipping addresses to Google Maps with one touch to manage the routing deliveries.
Special orders – Add out of stock items to draft or open POs with one touch.
Barcode Labels – Print barcode labels from POs, vendor shipments, store transfers and product records.
And much more…..
Extend Your Operations by Integrating with Leading Small Business Apps
MicroBiz Cloud allows you to integrate with popular 3rd party applications to extend the functionality of your MicroBiz retail management software, including:
WooCommerce – MicroBiz syncronizes inventory and capture online sales from WooCommerce, the popular ecommerce plugin for WordPress, the worlds most popular online content management platform.
QuickBooks Online –

MicroBiz has a direct API integration with QuickBooks Online, the #1 cloud-based financial accounting software for small businesses, to automate your financial reporting.

.
Integrated Payments – offer credit to customers, helping to develop recurring relationships with customers.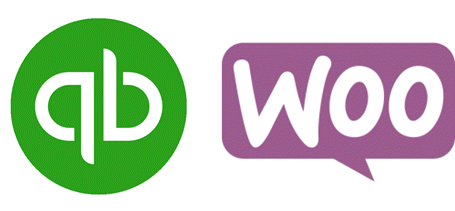 Top Ratings on Leading Software Review Sites
See what customers are saying about MicroBiz POS.
Try MicroBiz for Free!
Want to test MicroBiz out for yourself?  Sign up for a free 21 day trial of MicroBiz including all its features. No credit card required.
Submit a Question or Request
Have a question about MicroBiz software or a request for our sales team?  Submit a request directly to MicroBiz using a web form.
or call us at (702) 749-5353 option 2
Schedule One-on-One Online Demo
Want to see how MicroBiz handles  workflows or business needs of your store?  Schedule a free one-on-one demo with our of our technical sales reps.