Flexible and Powerful Reporting and Analytics
The MicroBiz dashboard provides a current snapshot of key metrics of your business. Use our standard dashboard to view sales, cost and profitability metrics at a glance.  Or use the various customizable standard reports to sort, filter and drill into your sales, inventory, transaction and other financial data.
Ways our reporting and analytics features can improve your business
View key metrics from the dashboard
Use the management dashboard to view sales, cost and profitability metrics at a glance
Analyze relevant data and trends
The wide variety of pre-configured product, sales and customer reports supports smart decisions
Drill into data with sorting and filtering
Columns can be sorted with one click and drop down filters enable the drilling into the most relevant data
Export report data to PDF and CSV files
Export most report data with one click into a CSV file or data analysis or a PDF file for better printing
Popular Preconfigured Reports
MicroBiz comes with a variety of pre-configured reports allowing you to better understand your business. Quickly view standard reports showing your best customers as well as your most productive salespeople. These standard reports include settings to view different store locations, date ranges, etc.  Report categories include:
| | |
| --- | --- |
| – Transaction reports | – Order reports |
| – Register reports | – Sales reports |
| – Inventory reports | – Tax and audit reports |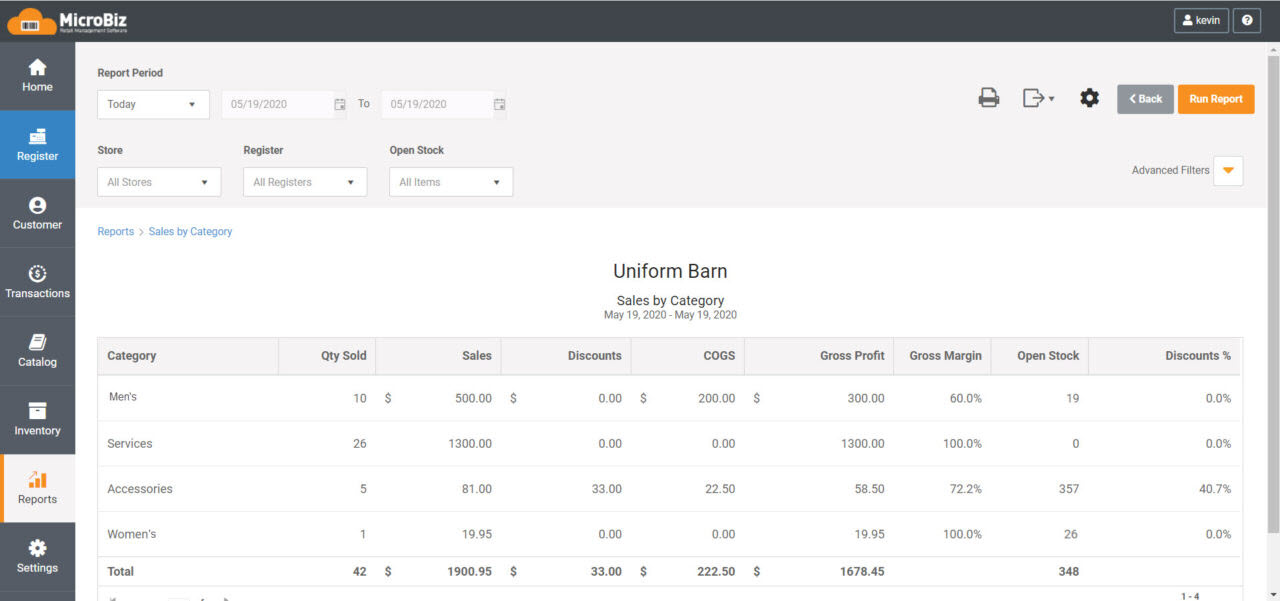 Export Report Data to PDF and CSV Files
You can export your report data with one click to a CSV file, allowing you to open and modify data in Excel or a similar spreadsheet. Many reports also have the option to export to a PDF file for easier printing.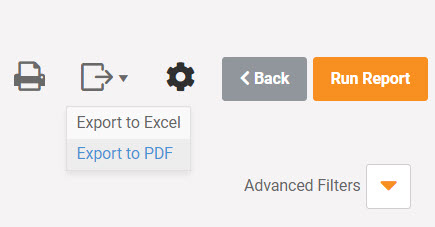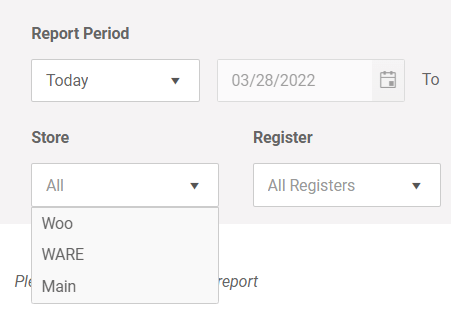 Multi-Store Reporting
All reports include toggle and filters, allowing you to view a single store, all stores or any combinations of stores.  This flexibility gives you the data to make smart decisions.
Customizable Sorting and Filtering
Reports allow you to select data by store and date range. Columns in MicroBiz can be sorted with one click and include drop down filters that enable you to drill into the most relevant data. You can search for exact matches of products or IDs, or whether a field contains a certain word or number. Want to see a report showing sales of any type of 'red jacket' over the last week? No problem with MicroBiz.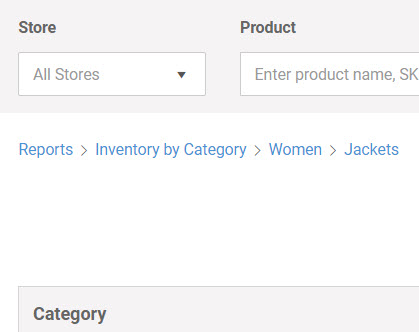 Data Drilldowns
Most reports include blue hyperlinks that allow you to drill down into more detail on the line items.  For example, you can be taken to the product record with one click from product level reports.  The Sales by Category report lets to drill into sales by sub-category by clicking on the category sales numbers.  This allows you to see additional financial or product detail without needing to generate an additional report.
​
Configurable Report Formats
All reports include settings to quickly change the columns displayed.  Columns can be sorted by clicking the table heading.  Many column headings include supplemental search or filter widgets, allowing you to fine tune the data displayed.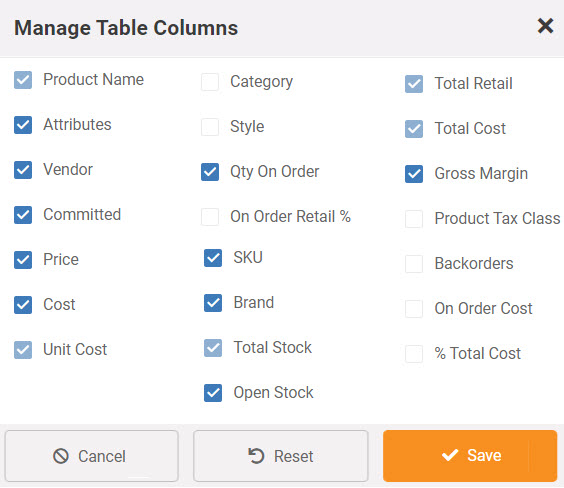 Take a tour of the key features in MicroBiz Cloud
Q. Can I customize reports?
A. Reports in MicroBiz Cloud includes the ability to configure what columns appear in our pre-configured reports and a variety of filters to select what data appears on the report. 
Q. What if I need a report not shown on your report menu?
A. Please contact MicroBiz sales. The current set of reports are very flexible and configurable. There may be a way to use optional columns of data and filters in an existing report to generate the data or analysis that you are seeking.  We would also like to learn more about your needs in the event that we could modify an existing report or create a new report. 
Q. Where else can I find the data that I am looking for?
A. Many summary grid tables can be exported as a CSV or PDF file. In addition, there is additional summary data that can be viewed on screen from the back end screens.
Sign up for a free trial store. No credit card required.
Submit a question or request using a web form.
Schedule a one-on-one online demo with a sales rep.
Or call our sales department at 702 749-5353 option 2