Manage a Services & Repair Department with Our Work Order Software
Manage your in-store repair or service department with the work order software included in MicroBiz.  You can check in a customer owned item, add parts and services, assign to an employee and collect a deposit with ease.  There is also an optional service calandar to help with scheduling your work orders and deliveries.
Ways our service department and work order software can improve your business
Offer higher-margin services
Manage the sale and delivery of higher margin services such as repairs and customizations
Track service history on customer-owned items
Check in customer items (such as a appliance, ATV or uniform) and track service history on the items
Use Service Calendar to schedule deliveries and service jobs
Schedule deliveries and service jobs using the 'drag and drop' capabilities of our service calendar
Set minimum payment/deposit rules
Set enforceable deposit rules to ensure that minimum deposits are collected 
Check-in Customer-Owned Items
MicroBiz allows you to manage repairs and services to customer-owned items.  You can check in multiple customer-owned items (such as equipment, appliances or uniforms).  For each item, you can enter a short and long description, and ID or serial number, and designate a location.  Each checked item is linked to a customer order record in MicroBiz.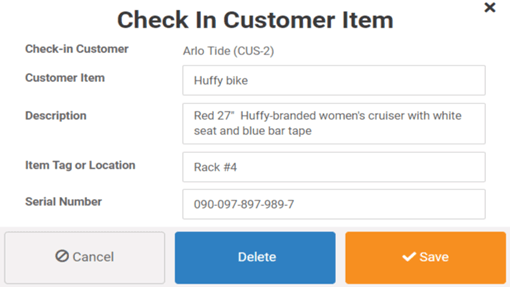 Describe Work Request and Assign Completion Date
MicroBiz Cloud's work order software allows you to record a description of the work to be done, define a handling method and print claim tags to be attached to the item and/or provided to the customer.  You can assign an employee to a work order and enter an estimated completion date to help schedule the work.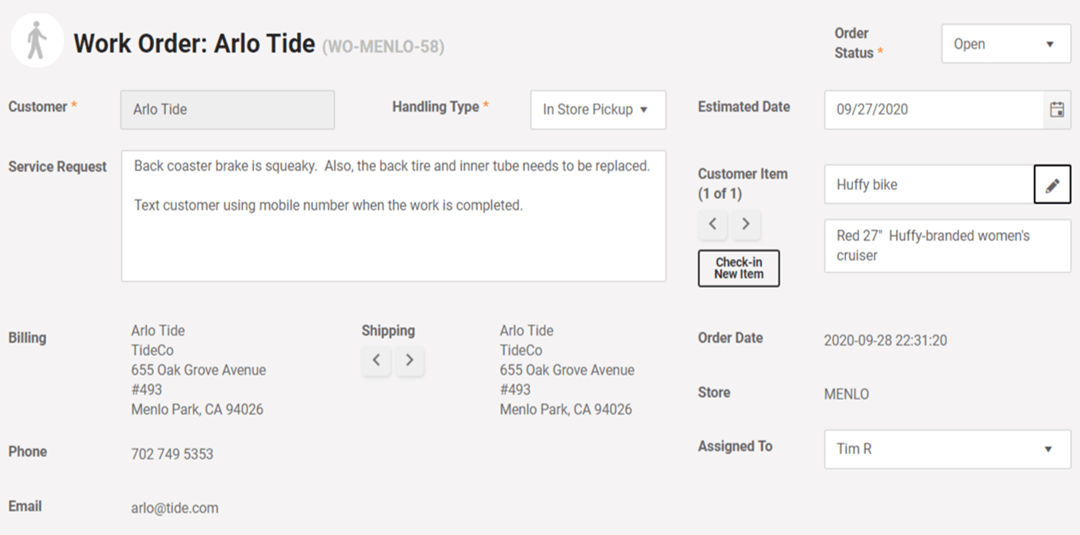 Add Items, Parts and Services
You can add parts/items to the work order as well as labor charges and other miscellaneous costs. This can be done through the search and filter functions in our work order software.  Individual items can be discounted from the work order screens and you can check for backordered items using the action menu.​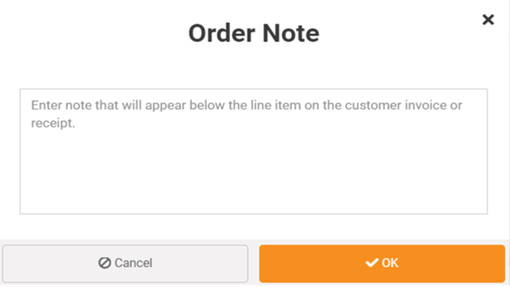 Add Notes and Track Order Status
Work order records allow you to track the status of a work order (in progress, awaiting approval, awaiting parts, scheduled, complete and cancelled).   Two of these statuses can be customized for your specific needs.  MicroBiz also allows you to attach notes to the work order to capture additional information on the work requested or customer. Notes can be entered as an internal customer note or an external product or order note printed on the receipt.
Create PO's for Special Order Items During Customer Order Processes
Our work order software allows you to create a new vendor purchase order containing the special order item during the order-taking process.  You can also reserve a special item already on a open vendor purchase order.  Other options include checking to see if the special order item is in stock at another locations and marking the special order item for further review.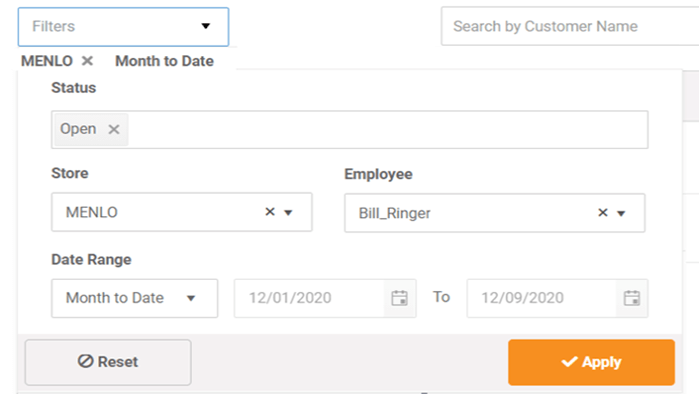 Use Filters to View Orders by Employee or Status
You can use the filters in our work order software to view certain orders statues (Open, Ready, Draft, etc) or which orders are assigned to specific employees/technicians.  This will help better manage your repair department.
Calendar-based Service Task Scheduler
Create a scheduled task (such a delivery, appointment or repair slot) right from the order record and assign to an employee.  Service task calendar can be displayed in multiple views (monthly, weekly, daily) and filtered by assigned employee. The Agenda View of the calendar can be printed to show tasks for the day.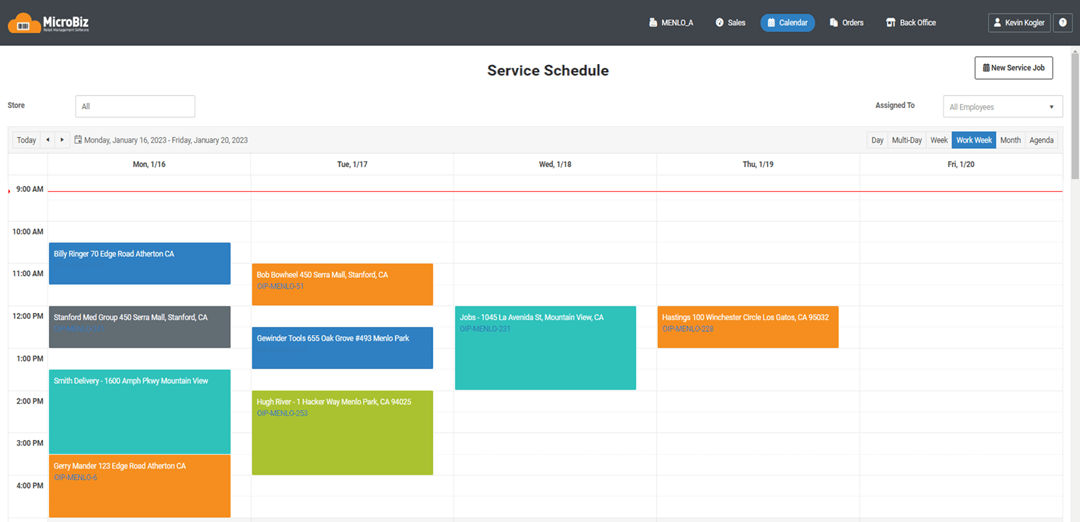 Collect Deposits and Enforce Deposit Minimums
You can collect deposits from customers on work orders, using the same tender types used for register transactions. You can set minimum deposit rules for work orders using MicroBiz's back-end management settings. Work orders in progress show the balance due and can be searched for and reactivated quickly and easily to update the order or collect final payment. You can also view the payment history on the order from the action menu.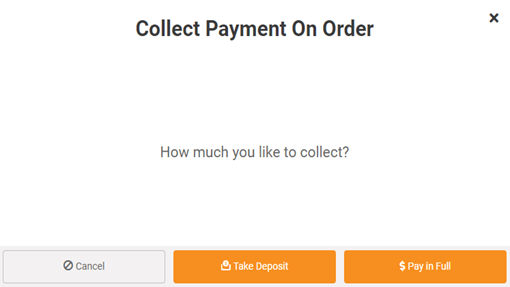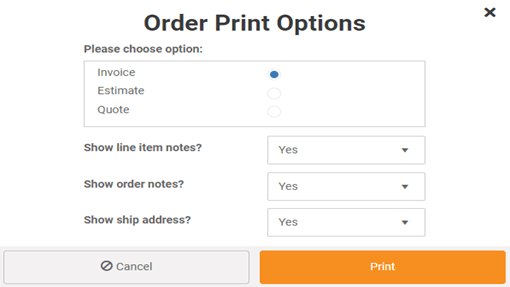 Print or Email Full Page Quotes, Estimates and Invoices
You have the ability to print or email full page quotes and invoices on work orders, which show the customer, due dates, charges for items and services and total due. You can also use our work order software print a work order summary on a standard width register receipt.
Service Item History
MicroBiz tracks the service history of customer-owned items.  The different service items and the service history of each item is available from the Customer record.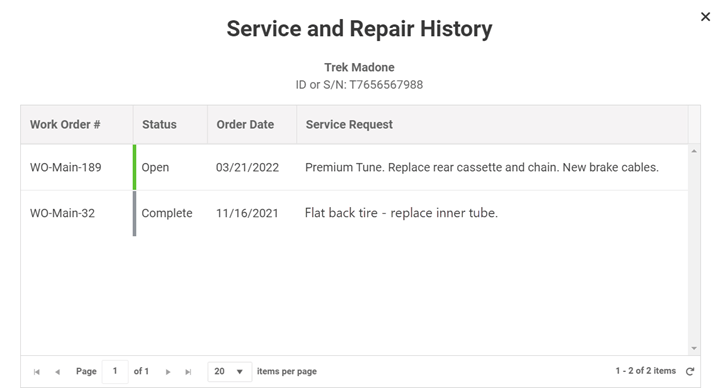 Take a tour of the key features in MicroBiz Cloud
Q. What's the difference between a Work Order and an Order in Progress?
A. The two types of orders are similar, but Work Orders include extra text fields to describe the service request as well as a function to check in multiple customer-owned items to be serviced and print claim tags. The reports are also different. Work Order reports display the description the work to be done and the customer item that was checked in.
Q. Can I upload images of work to be done?
A. At the current time we do not support uploading of images of work requested into the Work Order record.
Q. Does MicroBiz Cloud include a service calendar?
A. Yes, our work order software includes a service calendar providing the ability to schedule a service job.  You can assign an employee to a service job and a time/date on the calendar.  Calendar events can be 'dragged and dropped' on the calendar to change the scheduled time.
Q. Can I check in multiple customer items on a single Work Order?
A. Yes, you can accept multiple customer items that need servicing on a single Work Order.
Sign up for a free trial store. No credit card required.
Submit a question or request using a web form.
Schedule a one-on-one online demo with a sales rep.
Or call our sales department at 702 749-5353 option 2