Management Settings to Automate Your Business
Use the management settings in MicroBiz to help customize the system for your needs.
Customize Your Receipts For Your Store
You have to the ability to modify the format of your receipts to suit the needs of your business. Use our receipt wizard to create templates with different titles, line items and customer messages. You can insert your store logo to help reinforce your brand. Receipts now have an optional customer section. You can print the customer's name, address, phone, email and/or ID on the receipt.
Manage Multi-Juristiction Tax Rules
MicroBiz allows you to set-up virtually any type of sales tax. You can build up sales tax by state, county and municipality and have different sales tax rates for different store locations (critical if your stores operate in different tax jurisdictions). You can assign tax rules for products and customers. We even handle luxury sales tax rules in NY and MA and tax rounding rules in FL and MD.
Support Value Added Taxes (VAT)
MicroBiz supports both general sales tax (GST) as well as value added taxes (VAT). Tax inclusive pricing (VAT) can be set when creating products, including customer pricing, promotions, store level pricing. Printed receipts and orders display prices as tax inclusive.
Support Different Currencies
MicroBiz's web POS design enables you to change the currency displayed on the register screen and reports.
Import Updates to Product & Customer Records
The Product Import tools allow you to map and import cost, price, UPC and other data fields to update existing SKUs. The Customer Import tools allow you to import new customers and update existing customers.
Audit Any Change in the System and Settings
MicroBiz tracks every change made in a product or customer record as well as changes in system settings. This will allow you to see who made a change to a record, and when the change was made.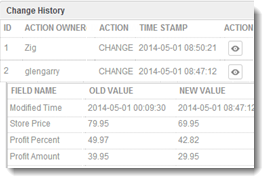 Restrict Access to Certain Screens via Employee Roles
Includes comprehensive settings for employee roles, alerts and change logs. You can set up the system to prevent classes of employees from viewing certain sensitive screens or data. For example, you may restrict access of clerks to just the register screens or limit or require manager approval on discounts.