Real-Time Inventory Management to Support Smart Decisions
MicroBiz provides a real-time centralized view of inventory levels at all your stores. Inventory levels are updated instantly for all sales and can be viewed from any register to see if an item is available at another location.
Ways our inventory management features can improve your business
Manage size/color variants
Manage the size/color/other variants of matrix products by using matrix grid and attribute lists
Attach serial numbers when receiving items
Ability to track serial numbers on serialized items by scanning or entering serial numbers when receieving items.
Track inventory across multiple locations
Manage inventory across multiple stores and transfers inventory from one location to another
Update stock levels via file imports
Update stock levels in bulk by importing inventory data via CSV file imports
Real-time Multi-store Inventory
View real-time stock information across all store locations – including open stock, committed stock and items on order (if you create purchase orders in MicroBiz).  As MicroBiz is cloud-based, inventory can be managed via any internet-connected device anywhere in the world.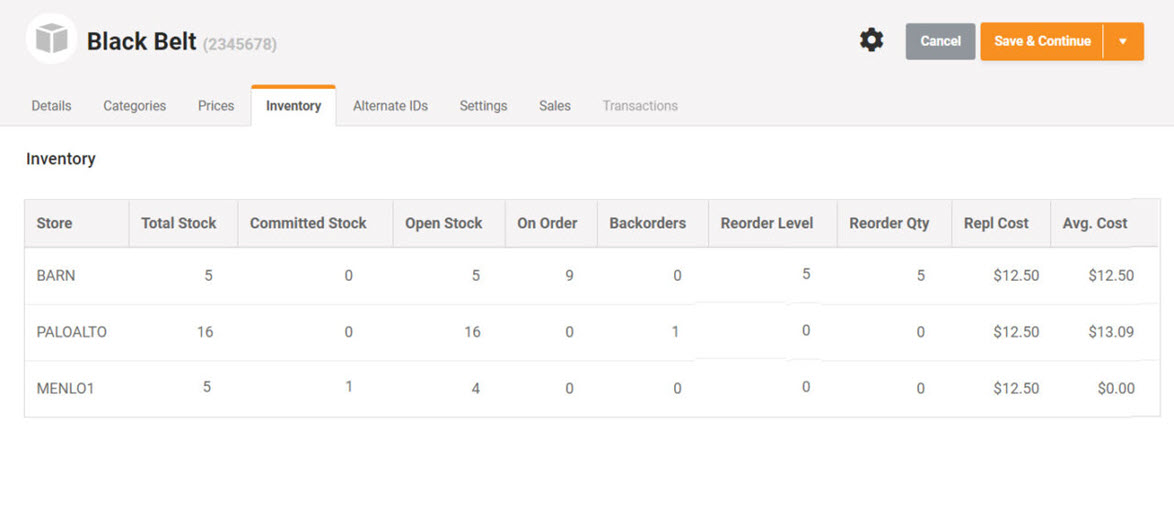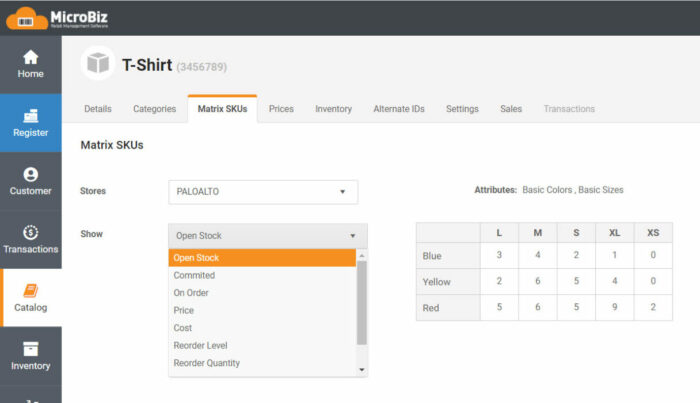 Matrix Product Inventory
MicroBiz manages matrix items (i.e. when a parent SKU or style comes in a variety of size/color/other variants).  You can set-up reusable size and color attribute lists, which can be to quickly loaded when creating a new matrix product – eliminating the need to manually enter the same size/colors runs over and over again.  MicroBiz Cloud incorporates a three dimensional matrix 'cube' which allows you to view the price, cost, stock, reorder points of the all the matrix SKUs on a single screen.
Front Register Stock Look-up
View stock levels from front register with one click.  For multi-store customers, you can view stock levels at all your locations from the front register, including open stock, committed stock and stock on order.  This is great for selling items only available in stock at a different location.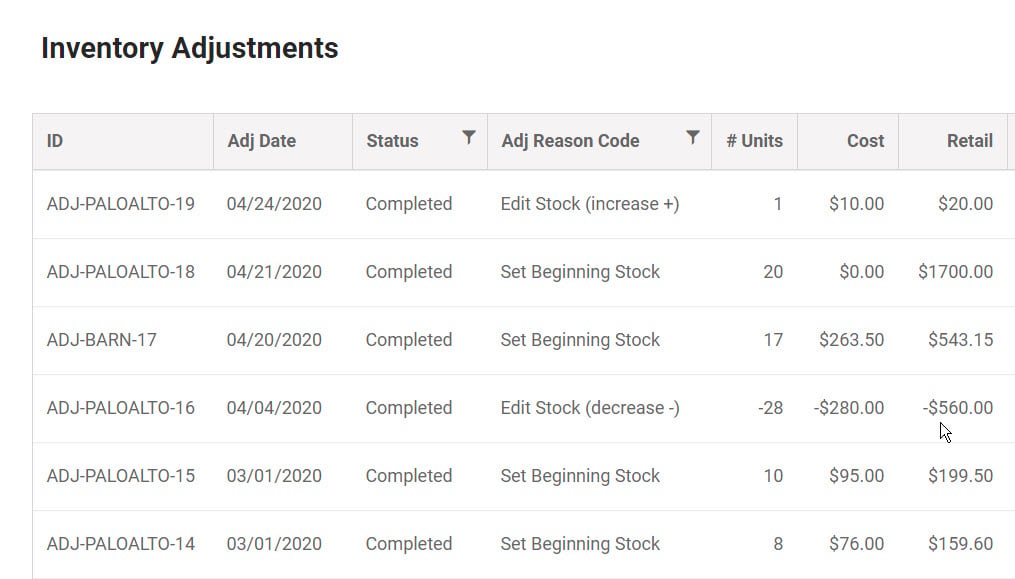 Inventory Adjustment Audit
MicroBiz tracks all changes in inventory so that you can audit any changes made to an item's stock level including: why it was made, when it was made, and who made the change.  When you update an item's the stock level within a product record, MicroBiz automatically creates a separate inventory adjustment document to document this stock change.  Or you can create an inventory adjustment document manually.
Manage Serialized Inventory Items
Manage the serial numbers of items in stock.   You can set whether an item has serial numbers and whether the tracking of serial numbers is required or optional.  Serial numbers can be added when the item is received into inventory, from the product record or when an item is sold.  MicroBiz supports the scanning of barcodes of serial numbers.  Serial numbers can be viewed for both sold and unsold items in the product records.  You can also return serial numbers to stock and use the Serial Number History report to track the sales and return history of a serialized item.
For more information on serial number tracking, click here.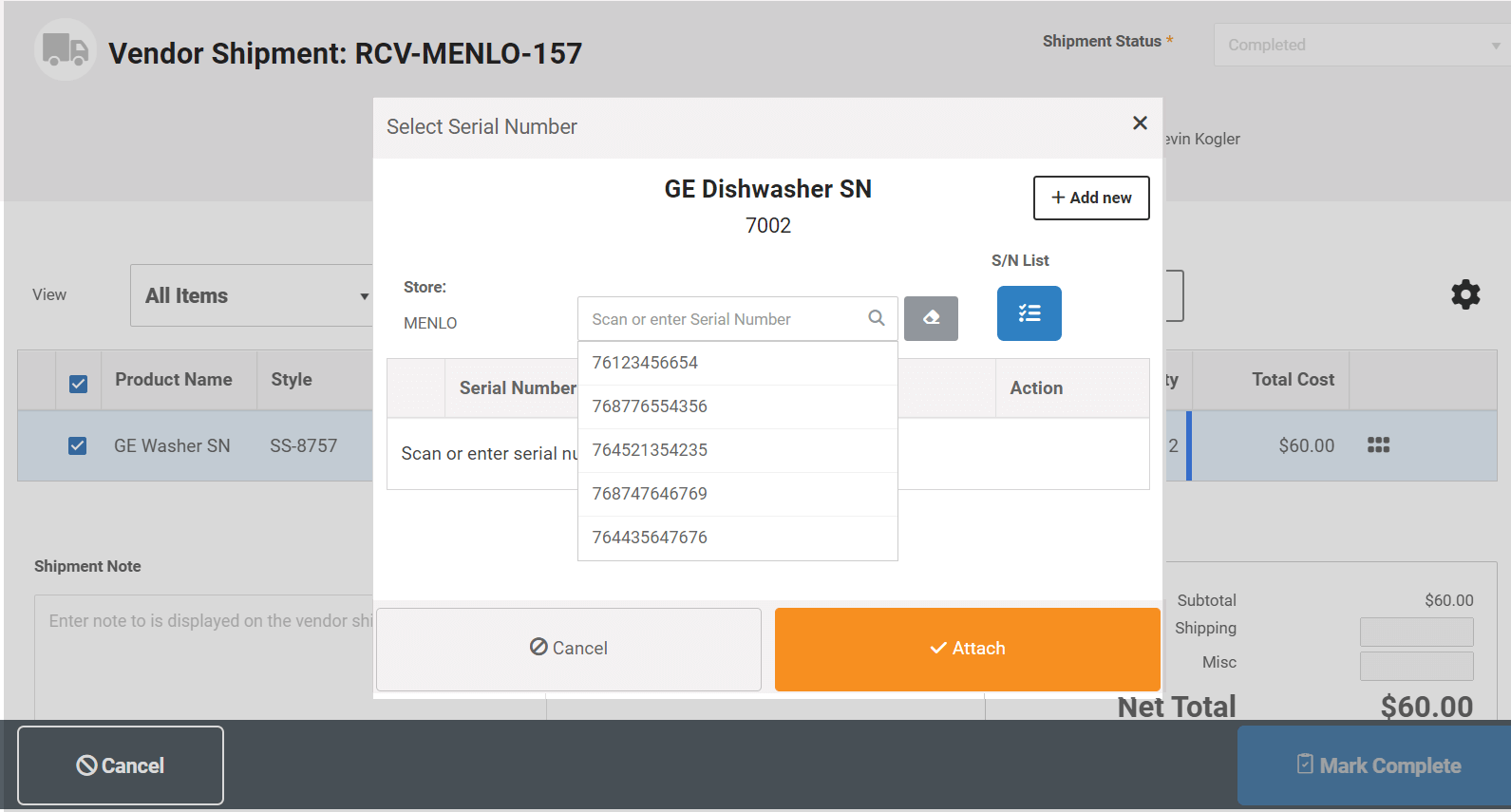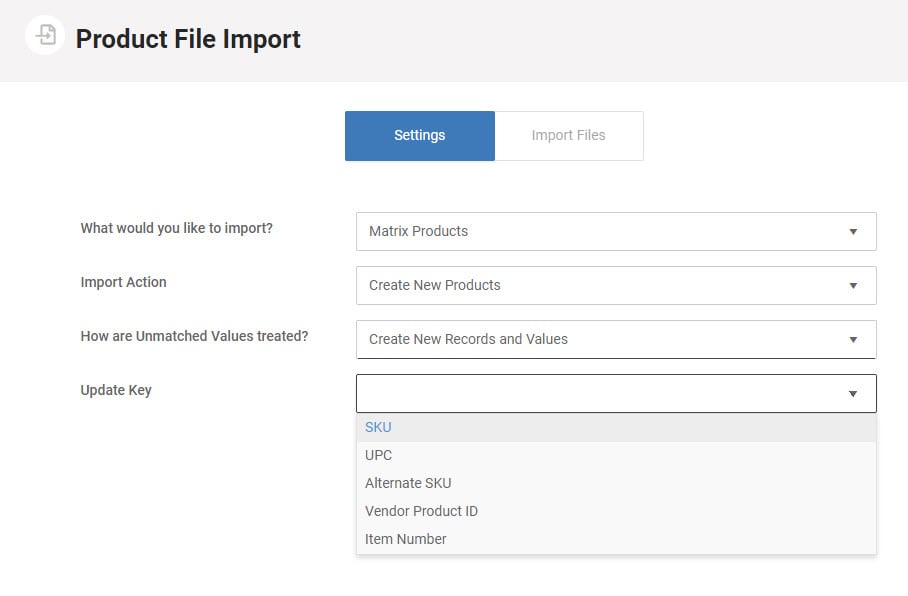 Import Products and Inventory Levels via CSV Import
For large scale inventory updates, such as a physical inventory counts, MicroBiz allows you to update stock levels using an import of a CSV file that includes the item ID and the new stock level.
Bar Code Labels
MicroBiz supports multiple price tag formats, including tags with bar codes.  Price tags can be printed automatically as part of the receiving process, or you can manually reprint tags for price changes.  We support a catalog of popular label formats natively, or you can use the label design tools in supported printers to design your own label.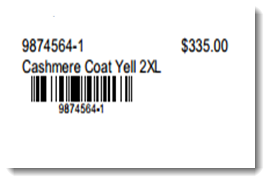 Inventory Reports
MicroBiz Cloud includes a variety of inventory reports.  These reports can be filtered, sorted and exported for further data manipulation.  Inventory reports include: Inventory by Item, Inventory by Vendor, Inventory by Category, Inventory by Reorder Point and Inventory by Brand.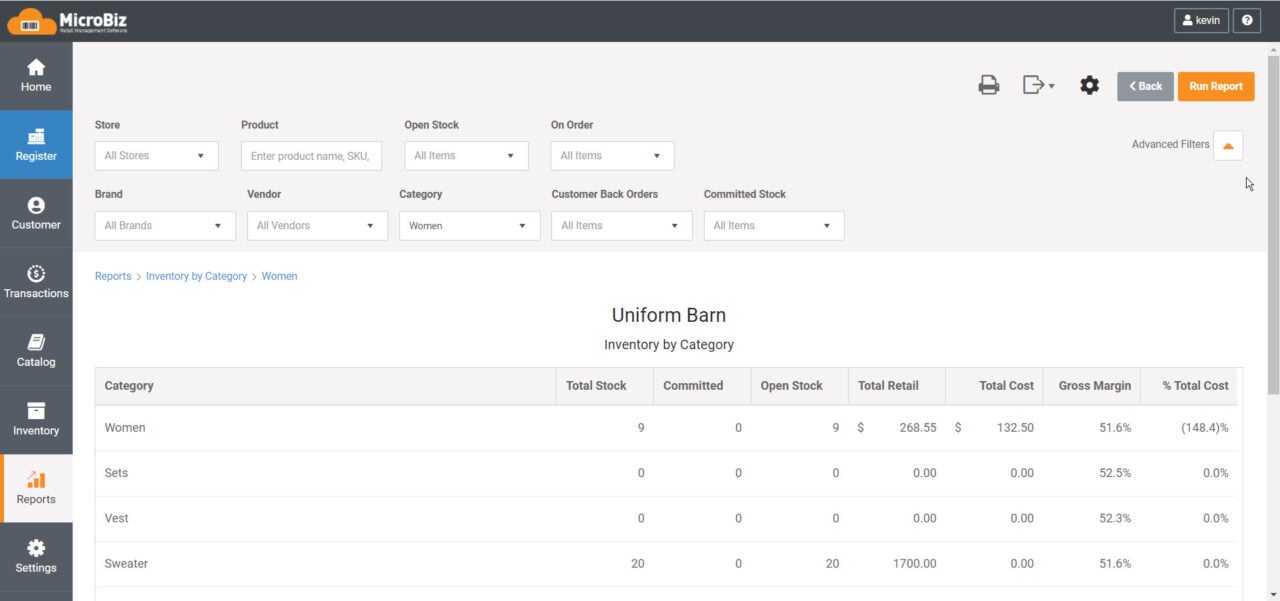 Conversion of Inventory Units
MicroBiz allows you convert inventory units from one unit of measure to another in a single inventory adjustment.  Perfect for converting items purchased in bulk or by the truckload to smaller stnadard units.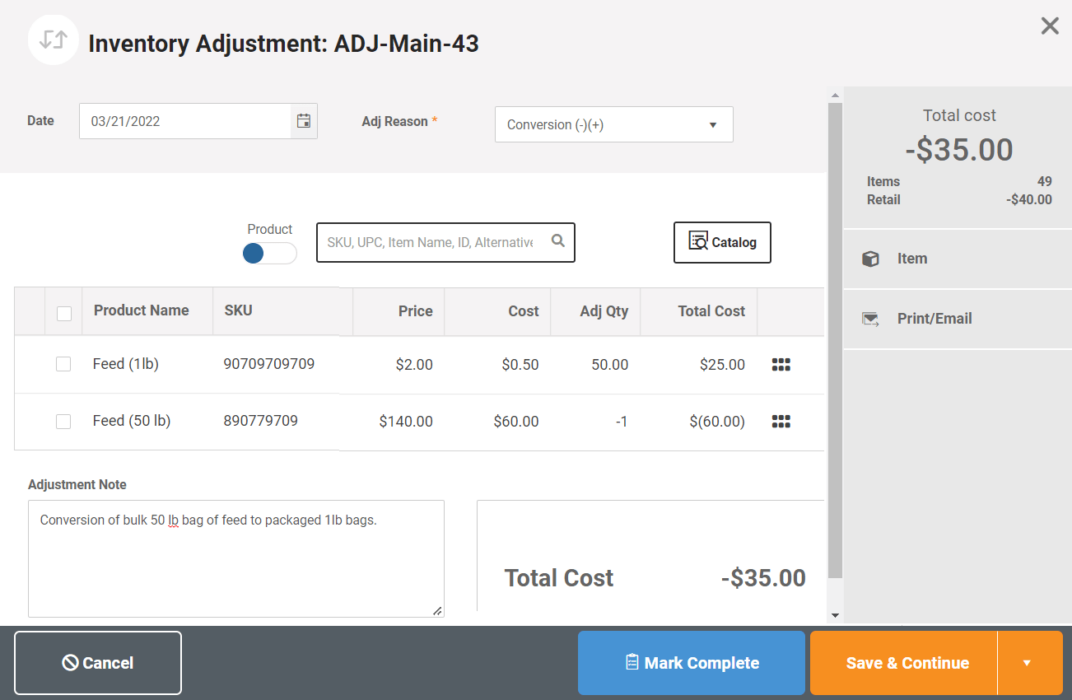 Take a tour of the key features in MicroBiz Cloud
Q. How are matrix products managed in MicroBiz Cloud?
A. Cloud Cloud incorporates a three-dimensional matrix 'cube' in the product record, allowing you to manage the price, cost, stock, reorder points of the variant products by 'slicing' different views of this cube on a single screen. In comparison, management of matrix products in older versions of MicroBiz Cloud limited matrix products to list views.
Q. What size barcoded price labels can I print?
A. MicroBiz Cloud includes a small library of popular standard price label templates. If you would like to use a custom label size or label design, you can create these yourself in the design software included for free by the Zebra label printer that we support. For custom labels, MicroBiz sends the unformatted label data to the printer, and then the printer takes this data and generates a label using the template that you created in the printer's memory.
Q. Is a separate warehouse location billed as an additional store?
A. Each location that maintains a separate inventory is billed separately. So, if your store and warehouse share the same inventory, then it's a single store.  But if you create store transfers when you move items between your store and warehouse, then these are two separate inventory locations for billing purposes.
Q. Do you charge for back office users working only on inventory management tasks?
A. No, we only charge for concurrent users accessing the register and customer order screens.  You can have unlimited employees and computers accessing the inventory management screens with no additional charge.
Sign up for a free trial store. No credit card required.
Submit a question or request using a web form.
Schedule a one-on-one online demo with a sales rep.
Or call our sales department at 702 749-5353 option 2