Benefit From Cloud-Based Real-Time Inventory Management
MicroBiz provides a real-time centralized view of inventory levels at all your stores. Inventory levels are updated instantly for all sales and can be viewed from any register to see if an item is available at another location.
Create Purchase Orders in a Snap
MicroBiz allows you to generate purchase orders quickly and easily. You can copy an existing PO to speed the process.  You can track timing of shipments and payment terms, and the shipping method. PO's can be printed or e-mailed directly to the vendor. You can also modify the format including adding your logo.
Accept Vendor Shipments Fast and Easy
When receiving goods, you simply click on the items in your purchase order and the system will add them to your inventory. Or you can receive goods without a PO. You may reject delivery, back order and track partial orders – and even update the store price and product cost right from the receiving screen.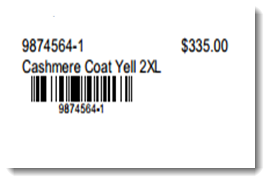 Quickly Generate Bar Coded Price Tags
MicroBiz supports multiple price tag formats, including tags with bar codes.  Price tags can be printed automatically as part of the receiving process, or you can manually reprint tags for price changes.  There is a free form field to add stock location or other data to the price tag.
Order Items from Multiple Vendors
MicroBiz supports multiple vendors for a product or item.  This will allow you to quickly and easily switch from one vendor to another in order to capture the lowest price or best terms on an item.
Speed-up Ordering with Auto Stock Replenishment
MicroBiz automates your ordering process by defining targeted reorder points and restock levels for products.  You can add automatically add quantities to purchase order based on current inventory as compared to desired restock levels, historical sales of the item over a set time period or an specific order amount.
Track and Find Items by Bin Location
You can track the location of an item within a store or warehouse. Track bin locations (aisles, shelves, rows) as well as storage area. You can even include the bin location on the price label – allowing employees to quickly locate back room items based on price label information or by item look-ups.