Multi-Store Point of Sale
With MicroBiz Cloud POS, you can manage multiple store chains, multiple stores within each chain, and multiple registers within each store. Product and customer records can be set to be displayed at all stores or combination of stores.  The financials of each register and store roll-up to retail chains for management and reporting purposes.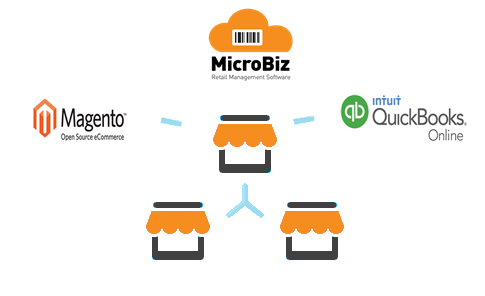 View Real Time Inventory Across All Locations – Every register and mobile device has a real-time centralized view of inventory levels at all stores and warehouses. This real-time multi-location inventory data allows you to tightly manage inventory levels and make better purchasing decisions and price adjustments.
Quickly Transfer Items and Orders Between Stores – Leverage your multi-store inventory with the ability to transfer items between stores. You no longer need to keep excess inventory at one location to protect from stock-outs, or hold your ecommerce inventory physically separate from your store inventory.
Speed Restocks Using Auto Fulfillment Tools – Speed up the replenishment of stores from a warehouse by using auto fulfillment tools for store transfers. You can create transfers for items with on hand quantities below minimum inventory thresholds and by replacing sales over a date range.
In addition to the multi-store capabilities listed above, MicroBiz Cloud includes all the standard features and functionality needed to manage a multi-location retail business.  To view these standard POS features, please click on the button below.