Cash Register Point of Sale Systems
The POS systems to replace traditional cash registers are easy-to-use and help operate small retailers more efficiently ring up sales, gather customer data, manage inventory and provide reporting that leads to better decision making.
Retailers looking to replace cash registers often  are small in size with a limited number of items for sale – so a traditional legacy POS system would be to complex to operate and costly.  A powerful but easy-to-use web-based POS system like MicroBiz Cloud works great as a replacement to cash registers.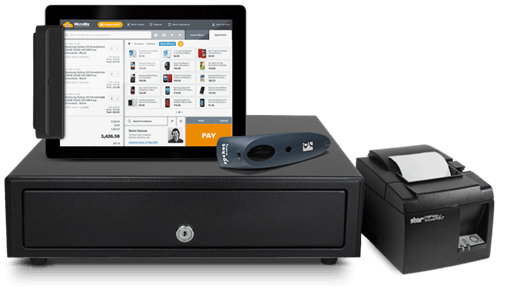 MicroBiz Cloud POS specific features for Cash Register Replacements include:
Price labels with bar codes – for items that do not come with a UPC.
Product images – so clerks can see a picture of the product being rung-up at the register.
Matrix product inventory grid – to easily manage multi-attribute items such as soft goods with size, color and style or hard goods with height, width and length attributes.
Discounts and markdown management – manage group markdowns, quantity pricing, multi-buy items, promotional pricing and bulk discounting.
Sales commissions – can be calculated for each item based on the sales amount or the gross profit or track commissions by employee to measure productivity.
Sell by weight – supports the sale of products in fractional quantities, such as  items sold by weight.
Group pricing or discounts – based on customer level or group.
Flexible product record fields – to track manufacturer, specs and other specific item information.
Email marketing – deliver targeted campaigns by querying and downloading customer data for use with popular email marketing applications.
Special orders/back orders – allows you to track special order items not carried in inventory, from the customer order to receiving, to inventory to the POS transaction.
In addition to the cash register replacement POS specific capabilities listed above, MicroBiz Cloud includes all the following standard features and functionality needed to manage smaller retail businesses replacing cash registers.  
Orders

Phone Orders/Layaways
Special Orders (out of stock items)

Backorder Creation and Filling
Store Management
Store Transfers
Support of Contactless Payments
PCI/PA-DS Compliant
Flexible and Filterable Reports
Enforceable Business Rules on Discounts and Returns
Employee Roles and Permissions
Minimum Deposit Requirements
Customers
Customer Tax Classes/Tax Exempt


Import Customers via CSV File Import
Register
Register Quick Pick Keys
Print or Email Receipts
Customer Sales History Look-up
Register Close/End of Day Reports

Advanced Filterable Product Search

Editable Item Descriptions on Receipt
Product images
Bar Code label scanning
Transaction holds/recalls
Returns and Voids
Split Tenders
Assign Salesperson to Transaction
Item and Transaction Discount
Stock-level Look-up (multi-store)
Store Credits
Gift Cards
Customizable Receipts
Custom Tenders
Integrations
WooCommerce Integration
QuickBooks Online Integration
Catalog Management
Categories and Sub-Categories
Product Tax Classes (multiple)
Quantity-based Tiered Pricing
Time-based promotional pricing
Alternate Product IDs

Print Barcode Price Labels

Matrix Products with Size/Color Variants
Multi-store Inventory Management
CSV File Import of Products & Inventory
Inventory Adjustment Audit Records
Purchase Orders/Vendor Shipments
Minimum Inventory Reorder Points