Hardware That Works Out of the Box with MicroBiz Cloud
MicroBiz's partner POS Portal (a division of ScanSource) sells and supports popular, value-based POS hardware that is easy to set-up and operates seamlessly with MicroBiz Cloud.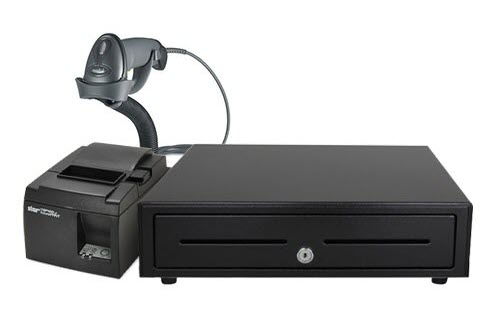 Starter desktop hardware bundle
Our desktop starter hardware bundle offers all of the equipment you need to create a clean and modern POS setup in your store.
1x  Star Micronics TSP143III USB/Lightning Printer
1x  Motorola LS2208 Handheld Barcode Scanner, Gray
1x  Star Micronics CD3-1616 Cash Drawer, Black USB
Note: PC and Monitor not included
Star TSP143 USB
Low cost, high quality thermal receipt printers with everything you need included in the box.
All Accessories Included with Printer
High Throughput: 22 RPM (Receipts per Minute)
High Reliability
Guillotine Auto-cutter up to 1 Million Cuts
Small ft. Print
Embedded Power supply
"Drop In & Print" Paper Loading
Recessed Cable Connections
Horizontal or Vertical Orientation Capable
Wall Mountable Option
All Drivers and Software Included
Included futurePRNT Software Provides Full Receipt Customization
Star CD1616 Cash Drawer
Star Micronics CD3 1616 Automatic Cash Drawer is a cost effective cash drawer that integrates seamlessly into any retail or hospitality environment.  Supports high volume cash handlers with a full size CD3-1616 drawer for easy organization of currency.
Printer driven opening and closing
Includes a black or white stainless steel front drawer cover with dual media slots and a three function lock system.
Smooth black or white coated finish provides a unified appearance and complements the connected POS peripherals.
Dual media slots provide extra storage for checks and large bills.
3 Function Key Lock at front center allows for an easy manual release via key or electronic release provides added security.
Standard printer communication interface and bottom exit cable, hidden from the customer's view  – allowing the CD3 to serve any point of sale set up.
The 5 bill / 8 coin configuration accommodates both Canadian and US currency types.
Motorola LS2208 Barcode Scanner (USB connection)
The Motorola LS2208 handheld barcode scanner offers high performance scanning at a moderate price point.
High performance 1D linear scanner
Provides fast, reliable scanning in a durable, lightweight form factor
Accurately captures data fast, helping employees work quickly and efficiently
Easy to deploy and use
Plug-and-play installation
Intuitive, user-friendly design that requires little or no training
Ergonomic, balanced form factor
Reads RSS codes
Optional scanner stand available
Features a 5 year warranty
Zebra ZD410d Price Label Printer (standard labels)
Zebra ZD410 Direct Thermal Barcode Label Printer is the smallest printer in its class, fitting easily in the most space-constrained desktop or shelf. This model uses a thermal print-head to apply heat to your label paper, eliminating the need for ink, toner, or printing ribbons.  The ZD410 is ideal for printing labels with a shelf life of less than one year.
Easy to use and troubleshoot
2.2″ print width
203 and 300 dpi print resolution models (Note: MicroBiz Cloud only supports 203dpi models)
Direct thermal printing of barcodes, text and graphics
Multi-position transmissive and full-width reflective sensor
5″ outside diameter media capability
Fan-fold media feed slot

Supports ZebraDesigner Essentials – free easy label design tool

Link-OS for unparalleled ease of management
Direct thermal only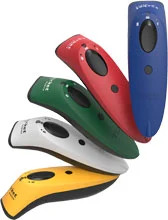 Socket S700 - 1D Barcode Scanner (wireless)
The SocketScan S700 1D barcode scanner with Bluetooth wireless technology scans on paper or screen. It has a lightweight, ergonomic structure, and a long-lasting battery to withstand entire workdays. Also available from POS Portal, the S740 2D scanner for scanning linear barcodes and QR symbols.
Reads all common 1D / linear and stacked barcodes
Long-lasting, replaceable battery with power to last up to 9 hours
Intuitive LEDs, beeps, and vibrations let users know battery, Bluetooth connection and scanning status
Color Options – Blue, green, red, white and yellow
1-Year Warranty – Barcode Scanner
ELO Paypoint Plus for Windows 15.6" All-in-One
PayPoint Plus for Windows is a new all-in-one point-of-sale (POS) solution that delivers unmatched style and function with the power of Intel® Coffee Lake Core™ i5 processing. This space-saving and commercial-grade AiO is ideal for retailers, and includes:
15.6″ Windows-powered system

fully integrated 2D barcode scanner

a 3-inch printer

full-sized 16-inch cash drawer.
Zebra DS2278 Barcode Scanner (wireless)
The DS2278 enterprise class barcode scanner features a very ergonomic and durable lightweight design that delivers all day comfort.
Bluetooth wireless connection up to 33 feet direct line-of-site (range can be expanded with CR2278 cradle)
Support for 2D barcodes and 100 scans per second single line scanning
Plug-and-play set-up – includes universal cable to connect for set-up
Designed to withstand multiple drops at 5 ft. to concrete
3-year warranty against defects in workmanship and materials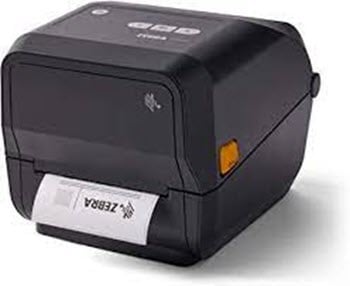 Zebra ZD420t Thermal Transfer Tag Printer (weatherproof labels)
Zebra ZD420 Thermal Transfer barcode label printer features an easy to use clamshell design combined with an intuitive interface.  ZD420 printers run Link-OS® and are supported by Star's Print DNA suite of applications, utilities and developer tools.  The ZD420 is ideal for printing labels using coated weatherproof labels.
Three-button user interface with five LED status icons
4.0 – 4.9″ maximum media width
Can print labels up to 39″ long
203 dpi print resolution (Note: MicroBiz Cloud only supports 203 dpi models)
USB interface
Accepts either 74 m/244 ft. or high capacity 300 m/984 ft. ribbons
Supports both EPL and ZPL printer languages
Link-OS software included for label design
ZD420 replaces Zebra's popular GK420 Series
Thermal transfer model required for weatherproof labels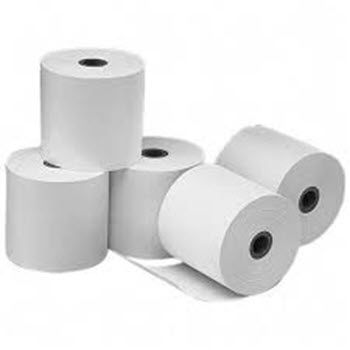 Purchase receipt printer and bar code label/tag printer supplies that work with printers sold and supported by MicroBiz.
Purchase Options
We support very popular value-based POS hardware.  You have several options on how to buy your hardware.
Use Your Existing Hardware
MicroBiz is flexible and and can be used with certain popular POS hardware and accessories. If you're currently using another point of sale system, MicroBiz might work with your existing printer, barcode scanner and cash drawer. MicroBiz works on virtually any PC running Microsoft Windows 7, 8 or 10 professional operating system – so you should be set with your main computer.
Buy Through POS Portal
Remove all uncertainty of what model to purchase by buying your hardware through our partner, POS Portal.  You will benefit from POS Portal's sales support and return policies and post-purchase you will receive plug & play support for printers, bar code scanners and cash drawers from MicroBiz support professionals in case you have issues.  Plus, you will be running your system on the same hardware that we use to develop and test our software.
Buy Your Own Hardware
It you need more hands-on assistance, you can also purchase POS hardware and accessories through one of our certified resellers.  We also publish requirements and supported hardware on our website, so if you have some expertise with setting up hardware you can also purchase your POS hardware yourself.  To see which items are supported by MicroBiz, click here.
Q. Can I use my existing POS hardware?
A. Potentially. We support popular value priced POS hardware from Star, Motorola and Zebra. We have designed our software to conform with POS market standards used by these manufacturers as well as other manufacturers in the industry. So, you may find that your existing hardware works. We recommend giving it a try and see if it works.
Q. Can I use MicroBiz with integrated payment processing?
A. We offer EMV compliant integrated payments with MicroBiz Cloud through a partnership with WorldPay (formerly Vantiv/Mercury Payments) and a select group of other payment processors.  Integrated payments will allow you to use a customer-facing EMV terminal enabling a customer to pay for a transaction using an EMV terminal without your employee handling the customer's credit card.  Integrated also reduces errors, speeds up the check out process, simplify questions, capture electronic signatures.  To learn more, click here.
Q. Can I buy my POS hardware and software from MicroBiz at the same time?
A.  For most your POS hardware needs, we partnered with POS Portal (a division of ScanSource) to sell and support the printers, cash drawers and bar scanners.  The hardware sold by POS Portal is popular, value-based POS hardware that is easy to set-up and operates seamlessly with MicroBiz Cloud.  
Q. What is the difference between Thermal Transfer and Direct Thermal printers?
A. Direct thermal printing uses chemically treated, heat-sensitive media that blackens when it passes under the thermal printhead, while thermal transfer printing uses a heated ribbon to produce durable, long-lasting images on a wide variety of materials.
Questions on your POS hardware options?
Call MicroBiz sales at (702) 749-5353 (option 2 for sales).