Jewelry Store Point of Sale
Jewelry store sell a wide range of jewelry items and often offer  additional services such as cleaning, engraving, or jewelry repair. The best jewelry store POS systems can tightly track the inventory of high priced items and also manage a services and repair department.  Jewelry and diamond stores often deal with customers on a more personal level than most other types of retail environments.  To provide the best possible customer service, it is important to have a top jewelry store point of sale software application to maintain robust customer profiles and sales history that can be easily stored and accessed.  Jewelry stores also often need special tag printing formats, such as hang tags or butterfly price labels.
Jewelry and Watch Store POS specific features in MicroBiz Cloud include:
Special orders/back orders – Allows you to track special order items from the customer order to receiving, to inventory to the POS transaction.
Customer deposits – accept and track customer deposits.
Layaways – collect deposits while holding the item out of inventory.
Customer records purchase history– You can see multiple purchaes of jewelry items within a single customer record – so you can separately track multiple watches/jewelry owned by an individual.
Product images – so clerks can see a picture of the product being rung-up at the register.
Sales commissions – can be calculated for each item based on the sales amount or the gross profit or track commissions by employee to measure productivity.
Editable product description on receipts – ability to edit from the front register the short product description which appears on a receipt.  Helpful when selling unique or customizable items.
Restrictions on discounts and returns – management settings allow restrictions to be placed on discounts and returns of products.
Service department management – allows you to efficiently manage offered services (such as jewelry cleaning or repair) – you can bill by hour or by job, as well as bill for merchandise and materials.
Butterfly and hanging labels – Print all different sizes and types of labels, including various types of butterfly labels, through integrations with the label writers in Zebra printers.
Email marketing

– deliver targeted campaigns by querying and downloading customer data for use with popular email marketing applications.

Layaways – collect deposits while holding the item out of inventory.
Advanced search screen – search by item name, ID and other attributes, view product tiles, filter by categories, brands, vendors, size, color, etc.
Phone order support – ability to manage phone orders for pick-up, shipment or delivery through the Orders in Progress module.
Minimum deposit requirements – Enforce management rules such as minimum deposits on orders at the store level.
Killer Jewelry Store POS Feature: Customer Sales History

MicroBiz allows you to look-up a customer sales history with one touch from the front register.  Sales clerks can view customer history by transaction, items purchased or orders.  This is a great way to offer better customer service for reorders or suggestions for complimentary products and services.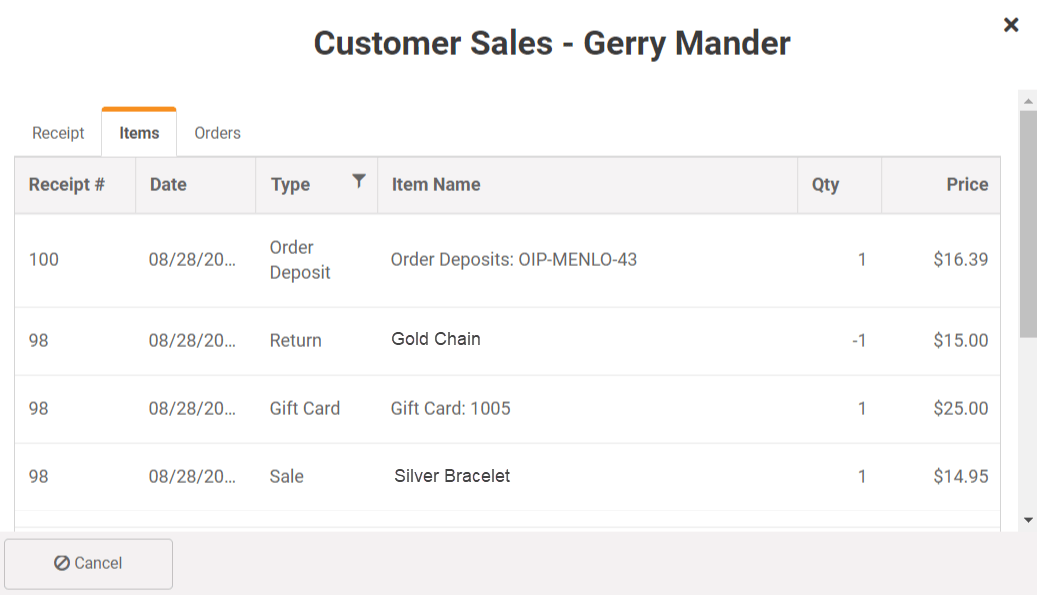 In addition to the Jewelry Store POS specific capabilities listed above, MicroBiz Cloud includes the following standard features and functionality needed to manage Jewelry Stores:
Catalog Management
Customer-based Pricing/Pricing Tiers
Matrix Products with Material/Color/Other Variants
Product images
Categories and Sub-Categories
Product Tax Classes (multiple)

Time-based promo pricing

Alternate Product IDs

Fractional Sale Quantities (weight/time)

Print Barcode Price Labels
Customers
Multiple Shipping/Billing Addresses
Customer Tax Classes/Tax Exempt
Credit Accounts/Charge to Account
Accounts Receivable Statements
Import Customers via CSV File Import
Integrations
WooCommerce Integration*
QuickBooks Online Integration*
* Coming soon
Orders

Phone Orders/Layaways
Special Orders (out of stock items)

Repairs/Service Dept Management

Quotes/Estimates/Invoices
Check-in of Customer Items for Repair
Deposit Collection and Refunds

Backorder Creation and Filling


Store Management
Store Transfers
Support of Contactless Payments
PCI/PA-DS Compliant
Flexible and Filterable Reports
Enforceable Business Rules on Discounts & Returns
Employee Roles and Permissions
Minimum Deposit Requirements
Register
Register Quick Pick Keys
Store Credits
Gift Cards
Customizable Receipts
Custom Tenders
Print or Email Receipts
Customer Sales History Look-up
Register Close/End of Day Reports

Advanced Filterable Product Search

Bar code label scanning
Transaction holds/recalls
Returns and Voids
Split Tenders
Assign Salesperson to Transaction
Item and Transaction Discount
Stock-level Look-up (multi-store)

Editable Item Descriptions on Receipt
Multi-store Inventory Management
CSV File Import of Products & Inventory
Inventory Adjustment Audit Records
Purchase Orders/Vendor Shipments

Special Order Tracking
Take a tour of the key features in MicroBiz Cloud
What's the Difference Between MicroBiz Cloud vs. MicroBiz for Windows?
We sell two POS software applications: MicroBiz Cloud and MicroBiz for Windows.  The features listed above are for MicroBiz Cloud, cloud-based multi-location point of sale application offered through monthly or annual subscriptions.
MicroBiz for Windows is a single-store, multi-station retail software application that is installed on PCs and sold via a one-time software license.   Some but not all of the MicroBiz Cloud features listed above are available in MicroBiz for Windows - and MicroBiz for Windows also has some features not available in MicroBiz Cloud.
To see a comparison of the features of MicroBiz Cloud and MicroBiz for Windows, click on the button below: