Thrift and Dollar Store Point of Sale
Thrift and Dollar store POS systems must support selling a wide variety general merchandise at deep discount prices. Because these thrift outlets compete primarily on price compared with other traditional retailers, there is a focus on buying smart, having low distribution costs, leasing inexpensive real estate and running efficient operations. Outlet stores often do a high volume of business because of the lower prices.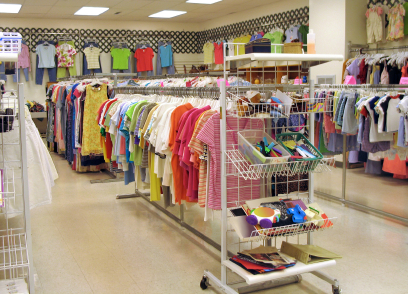 Thrift and Dollar Store POS specific features in MicroBiz Cloud include:
Price labels with bar codes– for items that do not come with a UPC.
Auto SKU generator – the system can automatically generate unique SKU when creating new products, which is helpful in stores where items are unique or one of a kind.
Multi-dimensional inventory grid – to easily manage multi-attribute items with color, size, style and/or width or other attributes.
Product images – so clerks can see a picture of the product being rung-up at the register.
Markdown management – easily manage group markdowns, quantity pricing, multi-buy items, promotional pricing and bulk discounting.
Sales commissions – can be calculated for each item based on the sales amount or the gross profit and track commissions by employee to measure productivity.
Special orders/back orders – Allows you to track special order items from the customer order to receiving, to inventory to the POS transaction.
Group pricing or discounts – based on customer level or group.
Flexible product record fields – to thrift or dollar store specific item information.
Email marketing – deliver targeted campaigns by querying and downloading customer data for use with popular email marketing applications.
In addition to the Thrift Store POS specific capabilities listed above, MicroBiz Cloud includes all the standard features and functionality needed to manage Dollar and Thrift Stores.  To view the standard POS features available in MicroBiz Cloud, please click on the button below.
Should I Use MicroBiz Cloud or MicroBiz for Windows?
We sell two POS software applications: MicroBiz Cloud and MicroBiz for Windows.  The features listed above are for MicroBiz Cloud, cloud-based multi-location point of sale application offered through monthly or annual subsciptions.
MicroBiz for Windows is a single-store, multi-station retail software application that is installed on PCs and sold via a one-time software license.   Some but not all of the MicroBiz Cloud features listed above are available in MicroBiz for Windows - and MicroBiz for Windows also has some features not available in MicroBiz Cloud. 
To see a comparison of the features of MicroBiz Cloud and MicroBiz for Windows, click on the button below: