MicroBiz Standard Features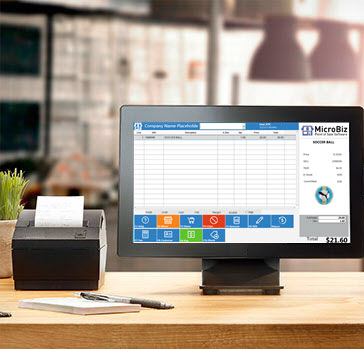 MicroBiz is very intuitive and easy to use, so your employees are more efficient and customers can check out faster. MicroBiz carefully tracks sale prices and costs and helps you accurately manage inventory. Product descriptions are flexible and support a diverse range of products and services. The application captures all relevant customer data and tracks historical purchases by customers. The purchasing/receiving module automates your purchasing process. MicroBiz's embedded report writer features a wide variety of reports – allowing you to analyze historical sales, employee productivity, and profitability by item.
Easy-to-Use Point of Sale – allows you to "check out" customers in seconds. It supports bar code readers, bar code printers, electronic cash drawers, customer pole displays, handheld inventory scanners and receipt printers. Users have real time visibility into customer purchase histories and inventory levels.
Integrated Credit and Debit Card Processing – Features a fully integrated software payment gateway with our preferred processor OpenEdge that processes your credit, debit and gift card transactions quickly and easily while meeting PCI DSS industry security regulations.
Customer Relationship Management – Tracks address, city, state, zip code, fax, phone, and e-mail address – making it easy to conduct targeted marketing campaigns.
Automated Purchasing/Receiving – Automatically tells you which items need to be reordered based on inventory min/max thresholds, reorder points and items on hand.
Employee Time Clock/Management – Manage your employees efficiently though an employee time clock, employee productivity reports and automatic commission calculations.
Inventory Management – It allows you to reduce or eliminate shrinkage, stock outs, stock discrepancies and track inventory movement. Manage item descriptions, count inventory, and track purchase orders, item costs and profit margins. Generate inventory count sheets for groups of items (and then enter from those sheets), scan items, load counts from a handheld or import a file from a data collection company.
Accounts Receivable – Integrated accounts receivable allows you to post and track payments, generate statements and apply credit limits to customer accounts.
Gift Cards – Offer gift cards to increase customer loyalty – and process gift card transactions seamlessly through our full integration with OpenEdge gift card processing service.
Integrated Report Writer – Our query-based report writer allows you to design your own reports and generate mailing labels. Provides detailed reporting on sales trends, inventory, and customers provides insight on sales trends and store profitability.
Marketing and Promotions – Includes features to market your business and run promotions ($ off, % off, buy x get y, etc.).
Bar Code Printing – The system can automatically generate price labels with bar codes from purchase orders received – making your inventory and point-of-sale transactions error-free.
Product sub-categories – You can organize your products into sub-categories for enhanced organization, sales analysis, seasonal forecasting, and suggested ordering.
Sales Source Tracking – Allows you to collect data to help measure the effectiveness of your advertising.
Customizable for your Business – Offers many features that are customizable to meet the needs of your business.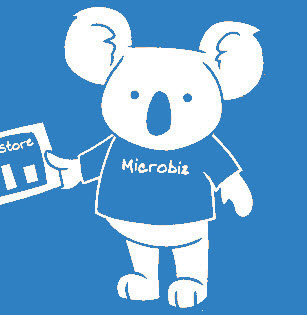 Download Free 30 Day Trial Version of MicroBiz for Windows
See for yourself why thousands of retailers around the world love MicroBiz for Windows