Kiosk Store Point of Sale
The best kiosk POS systems are easy to use and help operate small, semi-permanent open-fronted booths or stands where goods are marketed or sold. Kiosks are usually best located in high-foot-traffic areas such as malls or city sidewalks. Kiosks are always small in size and normally have a limited number of items for sale – so an iPad POS or Microsoft tablet-based system like MicroBiz works great.
Kiosk POS specific features in MicroBiz for Windows include:
Up-sell and suggested items – auto prompting at register triggered by the type of merchandise being purchased – so a customer buying one item can be told of a sale on related or complimentary items.
Kits or bundles – allows for bundling or grouping (e.g. gift baskets) of complimentary or related items to be sold as a package at point of sale.
Multi-dimensional inventory grid – to easily manage multi-attribute items such as soft goods with size, color and style or hard goods with height, width and length attributes.
Price labels with bar codes – for items that do not come with a UPC.
Product images – so clerks can see a picture of the product being rung-up at the register.
Markdown management – manage group markdowns, quantity pricing, multi-buy items, promotional pricing and bulk discounting.
Sales commissions – can be calculated for each item based on the sales amount or the gross profit or track commissions by employee to measure productivity.
Sell by weight – Interface to supported scales for items sold by weight.
Special orders/back orders – Allows you to track special order items not carried in inventory, from the customer order to receiving, to inventory to the POS transaction.
Group pricing or discounts – based on customer level or group.
User defined product record fields – to track manufacturer, specs and other specific item information.
Email marketing – deliver targeted campaigns by querying and downloading customer data for use with popular email marketing applications.
In addition to the Kiosk and Pop-up Store POS specific capabilities listed above, MicroBiz for Windows includes all the standard features and functionality needed to manage Pop-up and Seasonal Stores. Some but not all of these features are also available in MicroBiz Cloud.  To see a comparison of the features of MicroBiz Cloud and MicroBiz for Windows, click here.
Useful Links and Resources: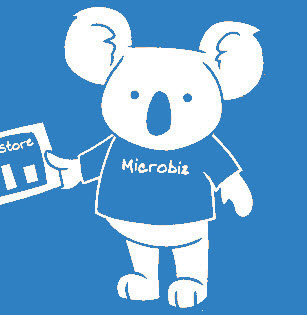 Download Free 30 Day Trial Version of MicroBiz for Windows
See for yourself why thousands of retailers around the world love MicroBiz for Windows