Vape and Ecigarette Store Point of Sale
Top vape store POS software systems help these types of retailers sell both ecigarette devices as well as flavored liquids which are vaporized. Vape retailers require specific features in their POS system including the ability to click through brands, flavors, sizes, and nicotine levels to quickly ring up sales.  Retailers also desire to understand which juices and brands are most popular, as well as monthly inventory reports in a few clicks.  Item records in an ecigarette POS and inventory management system should include a picture so that clerks are presented an image as a reminder to clerks what is being sold.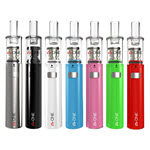 Vape and Ecigarette POS specific features in MicroBiz Cloud include:
Product images – so clerks can see a picture of the product being rung-up at the register.
Email marketing – deliver targeted campaigns by querying and downloading customer data for use with popular email marketing applications.
Markdown management – manage group markdowns, quantity pricing, multi-buy items, promotional pricing and bulk discounting.
Group pricing or discounts – based on customer level or group.
Flexible product record fields – to track manufacturer, specs and other vaporizers, accessories, and flavors.
In addition to the Vape Store POS specific capabilities listed above, MicroBiz for Windows includes all the standard features and functionality needed to manage Ecigarette Stores.  To see the standard POS fuctions included in MicroBiz Cloud, click on the button below.
Should I Use MicroBiz Cloud or MicroBiz for Windows?
We sell two POS software applications: MicroBiz Cloud and MicroBiz for Windows.  The features listed above are for MicroBiz Cloud, cloud-based multi-location point of sale application offered through monthly or annual subsciptions.
MicroBiz for Windows is a single-store, multi-station retail software application that is installed on PCs and sold via a one-time software license.   Some but not all of the MicroBiz Cloud features listed above are available in MicroBiz for Windows - and MicroBiz for Windows also has some features not available in MicroBiz Cloud. 
To see a comparison of the features of MicroBiz Cloud and MicroBiz for Windows, click on the button below: