Specialty book store POS systems need to support the sale of books, magazines, and sometimes even music sales. Book stores range in size from small specialty stores to very large book "outlets". Many book stores have reading and study areas for their patrons and may even sell coffee and snacks. Specialty book stores compete against larger general retailers by maintaining popular books in stock while offering unique and hard to find merchandise and high levels of service and expertise.
Book Store POS specific features in MicroBiz for Windows include:
Textbook ISBN tracking – through an alternative SKU provides a detailed record for each textbook inventory item — when it was received, individual cost, which customer purchased it, and when it was purchased..
Special orders/back orders – allows you to track special order items (such as out of print books), from the customer order to receiving, to inventory to the POS transaction.
Group pricing or discounts – based on customer level or group, such as book club members, faculty and students.
Kits or bundles – allows for bundling or grouping of textbooks, school supplies, apparel, or other related items to be sold as a package at point of sale.
Multi-dimensional inventory grid – to easily manage multi-attribute items such apparel and supplies with size, color and style attributes.
Rental module – allows you to track the renting of items, such as school text books.
Markdown management – easily manage group markdowns, quantity pricing, multi-buy items, promotional pricing and bulk discounting.
User defined product record fields – to track textbook ISBNs (inventory item numbers), title, author, publisher, year, edition, textbook image, and other book store specific item information.
Product images – so clerks can see a picture of the product being rung-up at the register.
Up-sell and suggested items – auto prompting at register triggered by the type of merchandise being purchased – so a customer buying a book can be told of a sale on a related item.
Email marketing – deliver targeted campaigns by querying and downloading customer data for use with popular email marketing applications.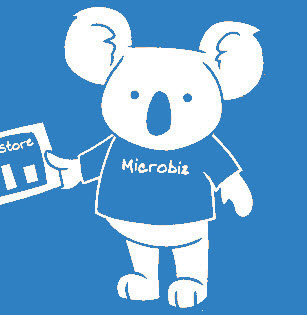 Download Free 30 Day Trial Version of MicroBiz for Windows
See for yourself why thousands of retailers around the world love MicroBiz for Windows