Credit Accounts, Customer Statements and Accounts Receivable
MicroBiz Cloud allows you to set-up and manage customer credit accounts, allowing your customers to bill their purchases to their employers credit account.  MicroBiz allows you to set credit limits, send out statements and apply payments to the account.
Ways our customer credit account features can improve your business
Bill purchases to credit accounts
Allow customers to bill purchases to the credit accounts of their employers
Track credit account activity
Purchases billed to credit account are aggregated and visible by authorized user and by transaction
Manage A/R from your POS system
Generate and send out accounts receivable statements, post payments, adjust balances
Offer customer-based pricing
Set up special pricing by customer group or credit account
Credit Account Management
Offer and manage credit accounts to customers, including defining authorized users, setting credit limits and payment terms and the display of current balance and available credit.  Credit account records display all charges to the accounts, payments on balances and authorized user activity.
Account Credit Limits
Set credit limits for each credit account.  The front register displays current balance and available credit when paying via a credit account.​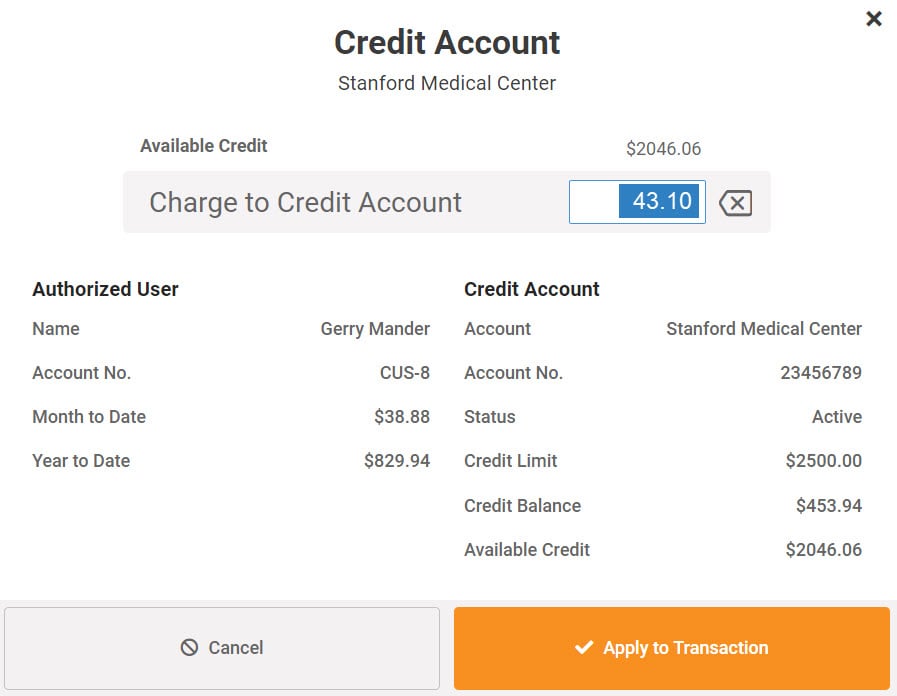 Front Register Bill to Account and Payments
Charge transactions to a credit account of an authorized user from the front register.  Credit account front register screens display the current balances and remaining credit to help in decision making when ringing up transactions.  Payments on account can be made from the front register using any available payment method.
Transaction Tracking by Credit Account or Authorized User
View each transaction made to a credit account by authorized users or view the monthly activity by each authorized user.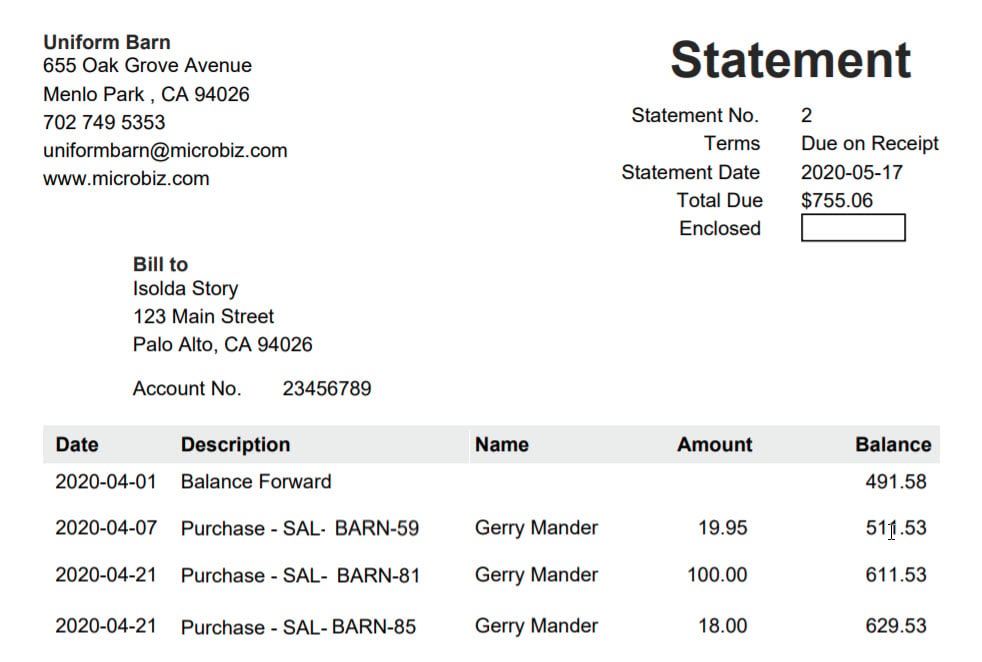 AR Statements
Quickly generate full page accounts receivable statements which can be printed or emailed to customer.  Statements show charges and payments on balance.  Add additional charges and adjustments can be made from the account record.
Credit Account Reports
The Transactions on Account report shows all transactions involving a credit account, including charges to credit accounts and payments on accounts.  The Transactions Payments Audit can be filtered to display credit account transactions and payments over any date period.
​
Everything that you need to automate your retail business
Q. Are customer accounts only available in Cloud v2.0?
A. Correct. Customer credit accounts are only available in Cloud v2.0.
Q. Does MicroBiz use open item or balance forward account receivable methodology?
A. MicroBiz Cloud v2.0 used the balance forward methodology.
Q. Can you set up late payments fees as a percentage of outstanding balance?
A. You can add dollar amount service charges and issue credits to a customer credit account, but MicroBiz does not automatically calculate late fees a percentage of the outstanding balance.
Q. The MicroBiz Cloud restrict transactions above the credit limit?
A. The credit limit is visible on the tender screen when charging to an account, so the user will need to confirm manually that the transaction will not cause the credit limit to be exceeded.